App review monitor for Slack
Get notifications about new app reviews.
Never miss a (bad) review again.
Works with any app.

Set up your Slack notifications:

Set up your app review monitor for Slack easily in 1 minute:
Just select any iOS app, enter your email and connect your Slack account. Now confirm your email to create your account. You're all set.

allstarsbot is now actively monitoring the App Store and will send you notifications of new app reviews to your selected Slack channel.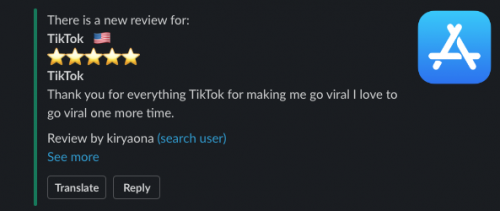 Monthly
Reviews for 1 app to your Slack account

Reviews from all countries

Click to reply to reviews
Yearly
Reviews for 1 app to your Slack account

Reviews from all countries

Click to reply to reviews
Monthly
Reviews for up to 5 apps to your Slack account

Reviews from all countries

Click to reply to reviews
Yearly
Reviews for up to 5 apps to your Slack account

Reviews from all countries

Click to reply to reviews